Solitude for Windows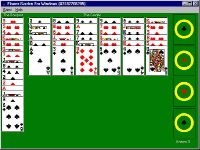 Solitude is a set of freeware solitaire card games for Windows 95/98/2K. There are 91 different games - including several invented by the author (Wave Motion Solitaire, Fire and Ice, Four Kingdoms). Solitude contains a set of games that try to represent the spectrum of card-based solitaire games (of which there are countless variations). Some unique games not often found in many other collections include Sid Sackson's great Bowling Solitaire and David Parlett's Black Hole.
By David Bernazzani
Operating System: Windows

Additional Information
Solitude for Windows includes the following solitaire card games: Aces Up, Alhambra, Amazons, Auld Lang Syne, Baker's Dozen, Baker's Game, Batsford, Beleaguered Castle, Betsy Ross, Black Hole, Blind Patience, Bowling, Bristol, Calculation, Canfield, Carpet, Chameleon, Clock, Contradance, Cribbage Solitaire, Cruel, Deuces, Dutchess, Eagle Wing, EastHaven, Eight Off, Fan, Fire And Ice, Flower Garden, Fly, Fortress, Four Kingdoms, Four Seasons, Fourteen Out, FreeCel, Frog, Gaps, Gargantua, German Patience, Golf, Good Measure, Icicles, Indian, King Albert, Klondike, La Belle Lucie, Lady Betty, Limited, Lucas, Miss Milligan, Monte Carlo, Moojub, Mount Olympus, Napoleon at St. Helena, Nestor, Osmosis, Pas Seul, Peek, Penguin, Pluto, Poker Solitaire, Pyramid, Rank and File, Scorpion, Scotch Patience, Seven Devils, Shamrocks, Simple Simon, Simplicity, Sir Tommy, Six By Six, Spider, Spiderette, Stonewall, Storehouse, Strategy, Streets and Alleys, Sultan, Tam O'Shanter, Terrace, Thirteens, Thirty Six, Three Shuffles, Thumb and Pouch, Trefoil, Wave Motion Solitaire, Westcliff, Whitehead, Will o the Wisp, Windmill, and Yukon.