Pretty Good Solitaire Mac Edition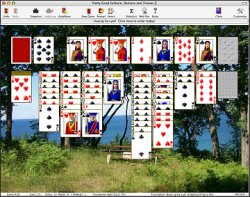 Pretty Good Solitaire Mac Edition offers 550 different solitaire card games, from classic games like Klondike, FreeCell, and Spider, to original games Demons and Thieves and Aces and Kings. You will enjoy countless hours of fun, whether you want an easy, mindless game or an intellectual challenge.
Pretty Good Solitaire Mac Edition is easy to play, giving you the choice of the standard drag and drop or its unique quick right button mouse clicks to move the cards. The game offers a full-featured "undo" option, where you can undo each and every move and redo them again if you wish. You can also leave a game while it is in progress and it will be automatically saved, so that when you enter that game again it will play the game back for you to where you left off. You can also submit your statistics and see how you rank against other players. Also includes Climb Mode, where you play games in order for a cumulative score.
With the Mac version of Pretty Good Solitaire, you can use additional card sets, use 3 different card sizes, use any image as a background, as well as many other great features.
By Goodsol Development
Operating System: Macintosh

Additional Information
Pretty Good Solitaire Mac Edition is 100% adware, spyware, and virus free, and comes with an unconditional 30-day money back guarantee.
Pretty Good Solitaire Mac Edition includes the following solitaire card games: Aces Up, Aces and Kings, Beleaguered Castle, Canfield, Crazy Quilt, Cruel, Demons and Thieves, Eight Off, Forty Thieves, FreeCell, Gaps, Golf, Klondike, La Belle Lucie, Penguin, Pyramid, Russian Solitaire, Scorpion, Spider, and Yukon.
Other Games You May Enjoy