Windows 8 Solitaire Preview
The latest version of the venerable Windows operating system, known as Windows 8, is wending it's way towards a possible late-2012 release.
Which brings up the obvious, and very important, question: What will solitaire look like on Windows 8?
Here's a screen shot and description from the Windows Store: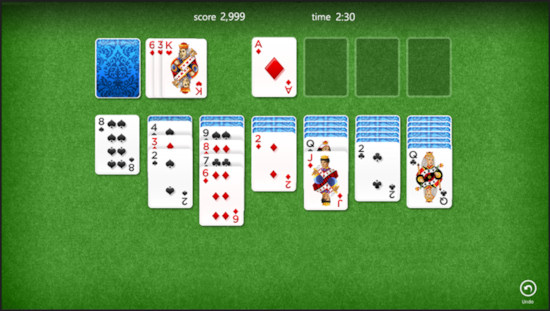 Solitaire is back for Windows 8! The game you've played and loved for years returns to the Windows 8 Beta to challenge you again. Play Solitaire with your touch screen tablet or traditionally with a PC mouse. Featuring play in both full screen and Snapped view. Features Xbox LIVE integration, Play in Regular or Snapped view, Choose from either single or three card draw for a different challenge.
According to softechguru:
Even Microsoft's crusty old version of Solitaire has gotten a Metro-style overhaul for Windows 8. Purists might moan about some of the gameplay changes – points are awarded for all card placement, and you can flip the deck unlimited times – but at least the annoying "ding" sound effect for invalid moves has been toned down.
At ZDNet, James Kendrick writes a bit about what we can expect in the new OS (Metro apps that should be included with Windows 8 at launch):
The launch of the most innovative version of Windows is inching nearer, and as information trickles out speculation is ramping up. The Metro interface is polarizing those who try it, and how well it will be received at launch will rely in large part on what apps are available on day one. Metro apps are brand new to the platform, and having a good selection at launch is crucial.

Solitaire: This one sounds frivolous, but the Solitaire game is a fixture for the Windows platform. An updated version of Solitaire to take advantage of the touch interface in Metro, with updated graphics would make new users feel like they are coming home.
There's currently no word on which solitaire games will be included. Klondike probably for sure. Freecell? Spider?
If you're interested in finding out for yourself, Microsoft has released a Windows 8 Consumer Preview which you can download and install for free.
(I have not checked out the preview. I don't have a spare computer to put it on, and don't want to risk messing up my main PC or laptop.)
If you know any details, please share in the comments!