Solitaire In The News, March 2013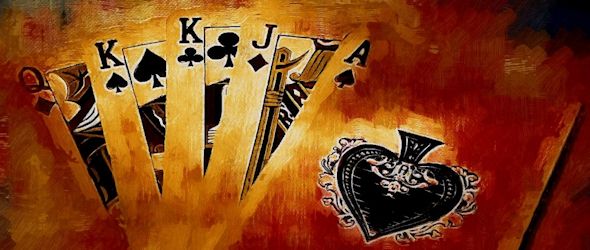 Here are some quick links to recent solitaire-related news and information:
Solitaire Blitz comes to iOS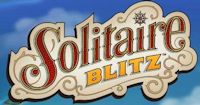 Solitaire Blitz is now available in the Apple App Store. Discover a whole new world of solitaire in this fast-paced treasure hunt! Match cards quickly to clear the decks in 60 seconds, collect treasures, and compete with friends.
[link]
Games.com calls Solitaire Blitz "the card game for people who hate card games", which is not very nice.
I tried it briefly on Facebook, and found it to be a hyperactive version of Golf Solitaire, which is far from my favorite solitaire game. But my wife is addicted to Solitaire Blitz on Facebook, and the game has over 1 million fans there, so I suppose I'm the outlier here....
Solitaire Is My Game
A New York Times letter says: "Computer solitaire is my game. Yes, it is an addiction but not a waste of time because it's a tranquilizer that is not harmful to my health. At 90, I find it a pleasant way to delay dementia because it stimulates the brain. You compete against yourself and never have to find an opponent of equal or higher level." [link]
Accordion Solitaire for iPad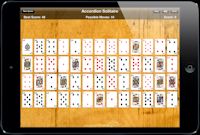 "Sprightly Software is thrilled to announce the release of Accordion Solitaire 1.0 for iPad, the latest in Sprightly's series of solitaire games for iOS. Players work their way through a 52-card deck by matching cards of the same suit or same number. Cards can be matched if they are beside each other or three cards from each other. The goal of the game is to clear as many cards as possible. Although easy to play, it can be hard to win. Players must use their creativity and planning skills to master this game!" [link]
Solitaire Multipack+ for iOS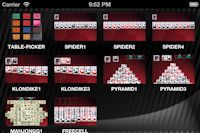 Solitaire Multipack+ is a fast-growing solitaire collection for iOS devices (the developer says "We try to add new games every week!"). It provides a number of the most popular Solitaire variations in a single app, including three Spider games, two Klondikes, two Pyramids, one Mahjong solitaire, and one version of Freecell. This universal app works on iPhone, iPad, and iPod Touch mobile devices. [link]
---

Solitaire In The News is a periodical roundup of news and notes focused on solitaire and patience card games, including solitaire in the news, solitaire game releases, and more from fans of all types of solitaire card games!
To keep up on the latest solitaire news, follow Solitaire Central on Facebook and Twitter, or subscribe to the free RSS feed.