Solitaire Rules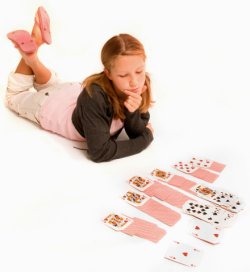 The number of solitaire variations available today is huge. When Lady Codogan published the first book on solitaire games, Illustrated Games of Patience, in 1874, she listed only 24 games. Today's most authoritative reference, David Parlett's Penguin Book of Patience offers rules to over 250 games (over 500, counting variations).
The Solitaire Central Rulebook offers rules to, at last count, over 1700 different games.
Granted, there are probably more than a few very similar games listed under multiple names, but there are also quite likely a good number of games that we've missed entirely.
A conservative guess would put the total number of solitaire games at around 1500. That's a lotta rules!
There are way too many games to list on one page, so we recommend that you use the menus below to browse our solitaire library, or search for a particular game by name using the site search in the menu bar.
If you're looking for a book of solitaire rules that you can prop open on the table next to you, take a look at our fine collection of Solitaire Reference Books.
Solitaire Rules A-Z
A·B·C·D·E·F·G·H·I·J·K·L·M·N·O·P·Q·R·S·T·U·V·W·X·Y·Z
Rules To Popular Solitaire Games
Below are a few of the most popular and most-requested solitaire games, each with complete rules:
If you're unable to find what you're looking for here, try exploring some of the many solitaire rule links.