Solitaire Games of Skill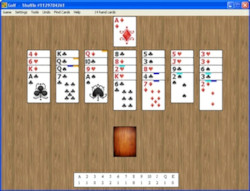 Play solitaire like the experts. With key cards highlighted and nearly every possible move indicated, you can lift your solitaire play to a higher level while playing the Solitaire Games of Skill collection. You will be able to win games you could not ordinarily win. Players that are already expert would spend less time scanning the layout.
The Solitaire Games of Skill collection has the best card mechanics of any solitaire software. You can move cards by clicking on the place you want them to go. You can swap columns of cards in order to obtain sequences of the same suit. Nearly every game allows the player supermoves as in the FreeCell game.
The frustration of playing a game for a while only to find out that the game was never winnable in the first place is obviated here. In many instances, if the layout does not give you a chance of winning, it is thrown out!
With its 424 games the Solitaire Games of Skill collection is not as large as some collections but there are no filler games here. You will not have to sort through a half dozen games before you find an interesting game. Almost half the games of Solitaire Games of Skill are new games not to be found elsewhere.
Requires: Windows 98 or later
By Roger Waters
Operating System: Windows

Solitaire Games of Skill Screenshots