TriPeaks Solitaire Rules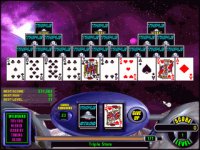 TriPeaks is a popular solitaire that takes the gameplay mechanism of Golf Solitaire and combines it with a layout reminiscent of Pyramid Solitaire.
The game is visually appealing and offers simple and quick gameplay, and has become a popular online solitaire game, often played for points, in which you are rewarded for long runs and clearing the tableau quickly.
Rules
Number of Decks: 1 (52 cards)
Alternate Names: Tri-Peaks, Tri Peaks
Initial Layout: 28 cards are dealt face-up to the tableau in the shape of three overlapping pyramids. One card is dealt face-up to start a single foundation pile. The remainder of the deck is kept face-down as the stock.
Object: The object of the game is to move all of the cards from the tableau to the foundation.
Play: The foundation may be built up or down regardless of suit. In the original version of the game, a king was a stopper - unable to connect to either a queen or an ace. Later versions of the game have liberalized the rules so that the order of cards is continuous: ... 2-A-K-Q ...
When you're unable to make any more moves, turn over the top of the stock and place it face-up on top of the foundation pile, then once again make any moves available on the tableau.
If you're able to remove all the cards from the tableau, the game is won (whether or not any cards remain in the stock).
Scoring: Each of the available implementations of TriPeaks uses a slightly different scoring scheme. Refer to the instructions included with each game for details.
See Also: Tri Peaks Solitaire Strategy Guide
Other Sources of TriPeaks Solitaire Rules
Note: All rule links open in a new window.
Play TriPeaks Solitaire Online
Games Featuring TriPeaks Solitaire
| | |
| --- | --- |
| | Journey around the globe, playing cards and exploring ancient ruins in this exciting adventure-themed card game! |
| | Take a balloon ride over the Hawai'ian Islands in Aloha TriPeaks. Power up cards will help you get to the next level, but use them wisely, as they are limited. Every level has a different challenge and a different look. |
| | Solitaire City is a collection of your favourite one and two pack solitaire card games played against the clock. The faster you play, the higher your score. Upload your highest scores to the web and compete against the best players in The World. |