Tri-Peaks Solitaire To Go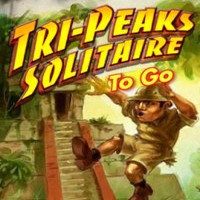 Dodge dangers and tour exotic locales as you journey around the globe in an effort to collect museum artifacts. Join Tex Carter on his adventures around the globe as he dodges dangers, collects museum artifacts, tours stunning locales and plays some super tri-peaks styled solitaire! Unlock treasure chests to reveal power cards, museum artifacts, bonus coins and other surprises. Play your way from the Aztec ruins to the Egyptian desert, to the fantastic world of Atlantis and more! It's Tri-Peaks Solitaire like you have never seen before!
Adventure themed solitaire game
Bonus Powerups
Rich Graphics and Sounds
Multiple environments, temples & power-ups
Search the globe for hidden treasures
Requires: Windows 2000/XP/VISTA, 128MB RAM
By Oberon Media
Operating System: Windows

Tri-Peaks Solitaire To Go Screenshots
Additional Information
Tri-Peaks Solitaire To Go includes the following solitaire card games: TriPeaks.