Seven Seas Solitaire for Windows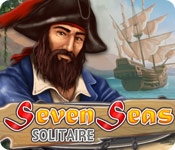 Seven Seas Solitaire is a swash-bucking adventure set on the high seas. You play a retired naval officer whose bride-to-be has turned up missing, and you've been framed for her kidnapping. You must scour the world's oceans to solve the mystery and bring your beloved home. You take command of a ship called "The Falcon", and set of on the adventure of a lifetime.
That sets the scene and setting, but the mechanics of the game involve playing solitaire! Specifically, you'll play the very simple, but confoundingly addictive, "Golf" solitaire, in which your task is to remove cards from the layout that are one higher or one lower than the top of the discard pile. Clear the layout, and you win the round, and advance to the next!
Seven Seas Solitaire contains over 300 levels to explore. You'll match cards and fire cannonballs to clear the levels and gather the clues and tools you need to find your darling. You will need to put together legendary combos to rack up as much gold as you can. You can then spend your gold on over 20 unique upgrades for your ship and for your island hideaway. Seven Seas Solitaire also includes a number of exciting mini-games to test your luck and skill, and earn awards for your derring-do.
As you sail and swashbuckle your way across the oceans, you'll discover one surprise after another. Do you have the skills and the courage to conquer the ocean's dangers and become a captain of legend? Find out in the addictive Seven Seas Solitaire.
Gripping story
Build your own hide-away
Over 300 levels
13 awards to unlock
Buy over 20 power ups
Requires: Windows XP/Windows Vista/Windows 7/Windows 8, 512MB RAM, 101MB Disk Space, DirectX 9.0 or later. Also available for Macintosh.
By Anawiki
Operating System: Windows

Seven Seas Solitaire for Windows Screenshots
Additional Information
Here are some additional screen shots for Seven Seas Solitaire: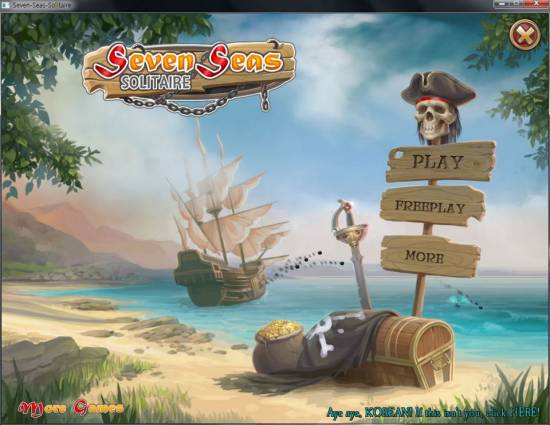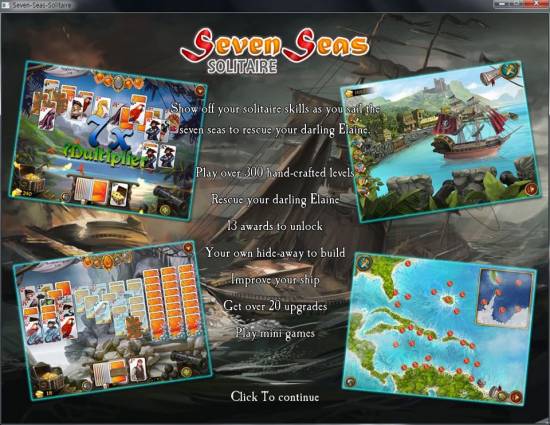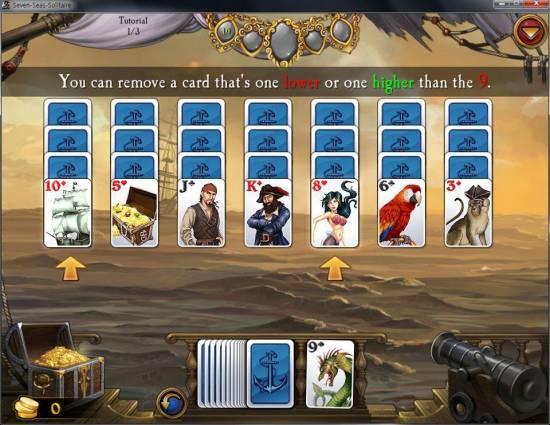 Other Games You May Enjoy
Seven Seas Solitaire for Windows Reviews
Gamezebo - Tons of power-ups and gameplay twists inject strategy and challenge into the classic card game. The combo system works well and allows for massive point multipliers. Slick presentation.
iWin - Graphics, sound, and overall game quality were wonderful. If you enjoy solitaire games I would definitely recommend this one.