Baker's Dozen Solitaire Rules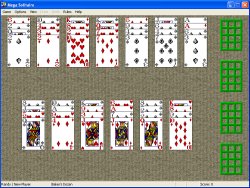 This game gets its name from the 13 columns making up the tableau, the number in a baker's dozen.
Baker's Dozen uses an open layout, with all cards revealed, making this a game of skill and strategy.
Number of Decks: 1
Initial Layout: Deal the entire deck in four rows of thirteen cards each, face up, overlapping the rows. Move each King to the bottom of the pile it was dealt to.
Object: Build the four foundations up in suit from Ace to King.
Play: Cards are built down regardless of suit. The top card is available for play to another pile, or to a foundation. Only one card at a time may be moved. Spaces are not filled.
Other Sources of Baker's Dozen Solitaire Rules
Note: All rule links open in a new window.
Games Featuring Baker's Dozen Solitaire
| | |
| --- | --- |
| | A collection of 445 solitaire card games, including over 90 original games found nowhere else, along with all the most popular games. And you can modify rules of almost any of the included games, thus creating your own solitaire variations! |
| | A fun and easy-to-use collection of 41 favourite solitaire games for your Mac. Big, readable cards. All the best games are here: Freecell, Spider, Klondike, Pyramid, Golf, Aces Up, Beleaguered Castle, Canfield, Clock, Corona, Cruel, Yukon and more. |
| | A collection of 760 solitaire games, including both original games and classics like Klondike, FreeCell, and Spider. Lush graphics, beautiful easy-to-read cards, in-depth statistics, & much more. |
| | Hard solitaire for serious solitaire players, Solavant has 240 solitaire games for your Mac. No easy games, hints, or cheats - it's just you versus the cards! |