BigPatience for Mac OS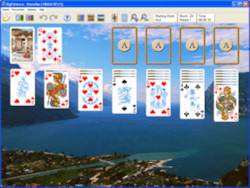 Play 60 popular and unique solitaire card games! The game features include:
Customizable solitaire rules
Unlimited undo and redo
Saving and restoring of unfinished games
Selectable decks and backs of cards
Texture and landscape backgrounds
Favourites and recent game lists
Game statistics
Detailed help
Solitaire games included: Aces Up, Agnes, Aribert, Blind Alleys, Canfield, Klondike, Free Cell, Golf, Monte Carlo, Pyramid, Royal Marriage, Yukon and many others.
Requires Mac OS X Leopard, Snow Leopard.
BigPatience is distributed as shareware. Registration brings the full BigPatience version with unlimited time playing, extra decks and backs, extra background pictures, and free upgrades to all future BigPatience versions.
By Lena Games
Operating System: Macintosh

BigPatience for Mac OS Screenshots
Additional Information
BigPatience for Mac OS includes the following solitaire card games: Aces Up, Agnes, Aribert, Baker's Dozen, Beleaguered Castle, Big Harp, Black Hole, Blind Alleys, Braid, Canfield, Cat's Tail, Chameleon, Chinese, Crescent, Cruel, Dogs to the Basket, Duke, Eagle Wing, Eight Sphinxes, Fair Market, Fans, First and Last, Flower Garden, Forest House, Forty Thieves, Four Packages, Four Seasons, Fourteen Out, FreeCell, Gaps, Golf, Gothic Castle, Icebreaker, Kings Corners, Klondike, Look of Fortune, Merry Twos, Monte Carlo, Napoleon's Tomb, New Fashioned, Octagon, Osmosis, Parterre, Peacock, Penguin, Pyramid, Rouge et Noir, Royal Marriage, Scorpion, Shifted Cross, Spider, Star, Sultan, Sun, Swedish Packet, Threes, Trial, Windmill, Women's Kingdom, and Yukon.
Other Games You May Enjoy