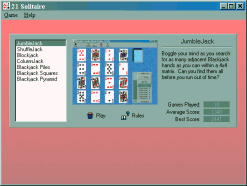 This program is a collection of seven solitaire card games based on a Blackjack theme. The object of the games is to make Blackjack hands – that is, hands whose cards total 21 in value, where the ace can count as either 1 or 11. The more Blackjack hands you can make, the higher your score will be.
All of the games in this program were invented specifically for this collection, and are available nowhere else. In addition, this collection offers all of the comforts and conveniences you've come to expect from a state-of-the-art solitaire collection, including:
Statistics for each game, including number of games played, average score, and best score
The program keeps track of your ten best scores for each game
Send game statistics to the publisher for posting on a worldwide high-score table
Fully-configurable screen background, with a user-selectable color, wallpaper, bitmap, or gradient
Hands can be selected at random, or by number
Multimedia sound effects
Comprehensive context-sensitive help system
Virtually unlimited number of undo levels (limited to one undo in the shareware version)
Two card sizes, allowing the game to adapt to nearly any screen size
Fully-resizable game windows, with card layouts that compress and expand to handle any window size
Each game sports a customizable toolbar with pop-up hints, as well as a right-click context menu
Support for 16-color, 256-color, and 16-bit (High Color) graphics
The games in the collection include Blackjack Piles, Blackjack Pyramid, Blackjack Squares, BlockJack, ColumnJack, JumbleJack, and ShuffleJack.
Click Here For More Information >>>
Publisher Information
21 Solitaire is published by Goodsol Development, home of the world's most popular shareware solitaire games, including Pretty Good Solitaire, Solitaire Plus, FreeCell Plus, FreeCell Wizard, and now 21 Solitaire.
Requirements
Requires Windows 95, 98, NT, XP, or Vista. 640x480x256 graphics is required; higher resolutions and colors are highly recommended. A sound card is optional but recommended.
Note: This game was designed for Windows 95. This program may or may not run under the version of Windows on your computer.