Solitaire City for iPhone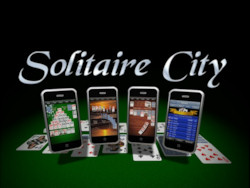 The award-winning Solitaire City is now available for iOS devices. Compete against player's from all around the world via Wi-Fi or cellular networks and see your name and scores in lights on real-time, daily, weekly and champions leaderboards that are automatically synchronized with a central server.
A selection of your favourite one and two pack solitaire games : FreeCell, Spider, Klondike, Pyramid, Poker Squares, Golf, Demon, Cribbage Squares, Casket, and Alternations. Numerous game rules offer a total combination of over 60 different game variations.
A unique hands-on training system can teach you the rules of unfamiliar games as you play. No more confusing rules to read.
Smooth, impressive graphical effects, 3D cards, shadows, particle effects and rewarding fireworks displays.
Landscape and Portrait support. Simply rotate the iPhone to switch.
Choice of background images and card set designs.
Global Scoring - over 300 hi-score tables are automatically downloaded over your Wi-Fi or cellular connection.
Unlimited Undo's let you reverse any mistakes.
Show Move button points out valid moves when you're stuck.
Card layouts for right and left handed players.
Solitaire City works on all your iOS devices, with enhanced high resolution graphics on iPads and Retina graphics on iPhone 4 and newer iPod Touch.
By Digital Smoke
Operating System: iOS
Solitaire City for iPhone Screenshots
Additional Information
Solitaire City for iPhone includes the following solitaire card games: Alternations, Canfield, Casket, Cribbage Squares, Demon, Double Klondike, Eliminator, FreeCell, Golf, Klondike, Poker Squares, Pyramid, Spider, Spiderette, Tri-Peaks, and Yukon.
Other Games You May Enjoy