Solitaire City for Pocket PC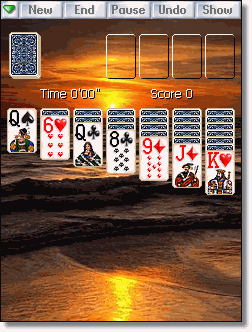 Play over 50 variations of your favourite one and two pack Solitaire card games on your Windows Mobile-based PocketPC.
Now you can play Solitaire on a long-haul flight, on a bus, in a dentist's waiting room - anywhere your PocketPC goes.
Play against the clock for points. The faster you complete a game, the higher your score, the best of which are stored
in one of many high score tables for future bragging rights. This unique timed scoring system makes Solitaire City
unlike any other handheld solitaire collection you've played. Cool graphical effects such as rotating, swaying cards,
alpha blends and a rewarding end of game fireworks display make full use of your PocketPC's power.
Solitaire City is packed with impressive visual effects and attention to detail from the marble skin and photographics backgrounds to the rotating cards, shadows and rewarding fireworks displays. This isn't your average Solitaire game!
Solitaire City is played against the clock ! The faster you complete a game, the higher your score, the best of which are stored in one of many hi-score tables. You'll find yourself playing long into the early hours, trying to shave a few seconds off your best time in order to see your name in lights.
Place your handheld in its cradle and it will use your computer's internet connection to sync your hi-scores automatically with scores worldwide. If your Pocket PC is WiFi capable then your scores can sync from your armchair !
Choose from a selection of beautifully designed card sets with LARGE, easy to read numbers.
Choose a stunning photorealistic JPEG image to display as a backdrop. Download more as they become available or choose your favourite image to display in the background.
Over 40 wacky digitized sound effects will entertain you as you play.
A unique hands-on training system - Solitaire City can teach you how to play an unfamiliar game as you participate and will transform you from novice to pro in a matter of minutes. No more confusing instructions to read. Learn as you play.
Solitaire City works on all the latest Pocket PC's as well as older devices that contain MIPS, SH3 or ARM CPUs. The appropriate files are automatically copied to your handheld for you by the easy to use installer.
Includes eight popular one and two pack solitaire games: Klondike, Pyramid, Poker Squares, Golf, Demon, Cribbage Squares, Casket, Alternations, FreeCell and Spider, each with numerous game rules offering a total combination of over 50 different game variations.
Unlimited Undos.
Show Move feature. When the going gets tough, hit the Show button to display a move recommendation. Choose your moment wisely though as you can only use this handy helper once every 25 seconds.
By Digital Smoke
Operating System: PocketPC

Additional Information
Solitaire City for Pocket PC includes the following solitaire card games: Alternations, Casket, Cribbage Squares, Demon, FreeCell and Spider, Golf, Klondike, Poker Squares, and Pyramid.
Other Games You May Enjoy