Solitaire City for Mac OS X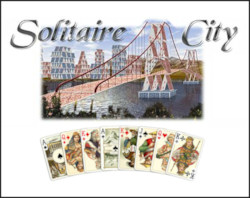 Tired of playing the same old solitaire games and feeling empty and unrewarded when you win? Then try Solitaire City and play your favourite solitaire games against the clock. The faster you complete a game, the higher your score, the best of which are stored in one of many high score tables for future bragging rights. This unique timed scoring system makes Solitaire City unlike any other solitaire collection you've played. Numerous hi-score tables encourage you to play over and over again, trying to shave a few seconds off your best time and see your name in lights. Upload your highest scores to the web and compete with some of the best Solitaire City players in The World. Try it yourself for free. It's very addictive!
A selection of your favourite one and two pack solitaire games : FreeCell, Spider, Klondike, Pyramid, Poker Squares, Golf, Demon, Cribbage Squares, Casket, and Alternations. Numerous game rules offer a total combination of over 60 different game variations.
A unique timed scoring system keeps the game play fast and furious. The quicker you complete a game, the higher your score. See your name in lights at the top of one of the many Hi-Score tables. Upload your highest scores to this web-site and compete with some of the best Solitaire City players from around The World.
Choose from a number of tasteful background images and tiling options, or display your favourite JPEG or BMP image in the background.
A unique hands-on training system. Solitaire City can teach you how to play an unfamiliar game as you participate and will transform you from novice to pro in a matter of minutes. No more confusing instructions to read. Learn as you play !
Large, colourful card graphics come in three sizes to suit all displays. Download additional Card Sets or use Solitaire Setty, the free card set designer to create your own decks. Turn your JPEG collection into a 24-bit Solitaire City card set.
Comes with a bunch of wacky Sound Effects that are fully customizable. The MIDI player can be configured to play a list of standard MIDI music files in sequential or random order.
Cool graphical effects such as rotating, swaying cards, alpha blends and a rewarding end-of-game fireworks display.
Unlimited Undos.
Show Move feature. When the going gets tough, hit the Show button to display a move recommendation. Choose your moment wisely though as you can only use this handy helper once every 25 seconds.
By Digital Smoke
Operating System: Macintosh

Solitaire City for Mac OS X Screenshots
Additional Information
Solitaire City comes with an unconditional 30-day money back guarantee. If for some reason you are not fully satisfied with your purchase then you can return Solitaire City within 30 days for a full refund.
Solitaire City for Mac OS X includes the following solitaire card games: Alternations, Canfield, Casket, Cribbage Squares, Demon, Double Klondike, Eliminator, FreeCell, Golf, Klondike, Poker Squares, Pyramid, Spider, Spiderette, Tri-Peaks, and Yukon.
Other Games You May Enjoy