Hoyle Card Games 2012 for Windows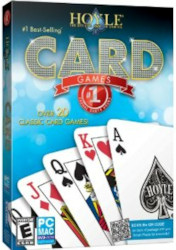 Hoyle Card Games is the premier commercial card game collection, featuring over 150 great card games, ranging from children's games such as Go Fish and Old Maid, to adult favorites such as Bridge, Canasta, and Poker. The program also includes solitaire games, with 45 variations of the classic single-player game.
5 Card Draw
500 Rummy
Blackjack (16 games)
Bridge
Canasta
Crazy Eights
Cribbage
Euchre
Gin Rummy
Go Fish
Hearts
Memory Match
Mille Bornes
Old Maid
Omaha Hold'em
Pinochle
Pitch
Poker
Skat
Solitaire (45 games)
Spades
Spite & Malice
Texas Hold'em
Tarot
War


You can play against the computer, with lifelike computer characters as unique as the phrases they dish out while challenging you at your favorite card game. You can create your own identity using Hoyle Card Games' unique "Facemaker" feature. Hundreds of hairstyles, noses, eyes, clothing options allow you to create your own perfect avatar. You can adjust the skill levels of your opponents for Beginner, Intermediate, or Expert challenges.
The 2012 edition of Hoyle Card Games includes brand new graphics, animation and game play! Join the FREE robust ROYLE SUITE, where you will be able to play and socialize with other Hoyle fans online, as well as compete in tournaments and earn HOYLE VIP Rewards online for bonus content.
Hoyle Card Games combines nonstop entertainment, endless replayability, attention to rules, and a simple interface making it a sure winner with novice and expert computer users alike. For over 200 years, 'According to Hoyle' has meant playing games right. The legacy continues with Hoyle Card Games 2012.
Hoyle Card Games for Windows runs on Windows (7 / Vista / XP) and on Macintosh (OSX) computers.
Purchase Hoyle Card Games 2012
DVD-ROM Edition (Windows & Mac)
Purchase Hoyle Card Games 2012

Download Edition (Windows & Mac)
By Encore Software
Operating System: Windows

Hoyle Card Games 2012 for Windows Screenshots
Additional Information
Hoyle Card Games 2012 for Windows includes the following solitaire card games: 3 Towers, Aces Up, Aces and Kings, Alhambra, Baker's Dozen, Baroness, Batsford, Beleaguered Castle, Best 21, Betsy Ross, Bowling, Bristol, Calculation, Canfield, Clock, Colorado, Cribbage Square, Eagle Wing, Eight Off, Eliminator, Euchre, Fast 21, Flower Garden, Fortress, Forty Thieves, Four Free, Four Seasons, Gaps, Golf, Klondike, La Belle Lucie, Mount Olympus, Nestor, Penguin, Pick 2, Poker Square, Pyramid, Red and Black, Scorpion, Seahaven Towers, Shamrocks, Slide, Spider, Spiderette, Strategy, Sultan, Sum 11, Terrace, Triplets, and Yukon.
Other Games You May Enjoy