Allgood Solitaire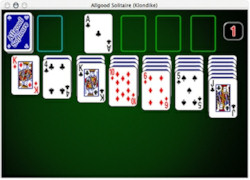 Solitaire has got to be one of the most popular computer games of all time. There are so many different variations of the game, there is always something for everyone. Allgood Solitaire offers 74 different variations, from the familiar Klondike, to more obscure games like Will O the Wisp. You'll be able to learn new games quickly by displaying the characteristics of each pile, the pile type and what card(s) are necessary to build on it.
At any time, you can examine the contents of any pile (and watch it change as you play), or turn over any hidden aces. For games like Klondike, where traditionally spaces in the Tableau may only be filled with kings, you have the option to turn off that restriction, and allow any legal sequence of cards to fill a space. The full automatic play of cards to foundations will make it a lot faster for you to clear the tableau, and will also pick up moves that you might have missed. Of course, what Solitaire game is complete without an 'undo' feature. In Allgood Solitaire, you can keep 'undo'ing back to the game's start. Also, you can configure the feel of the game, by changing the deck style to play with, or by replacing the background with an image of your own.
Allgood Solitaire is available for Macintosh Classic, and OS X 10.2 or later.
By Allgood Software
Operating System: Macintosh

Additional Information
Allgood Solitaire includes the following solitaire card games: 3 Shuffles and a Draw, Accordion, Aces High, Aces Up, Acquaintance, Agnes Bemauer, Agnes Sorel, Alaska, American Toad, Auld Lang Syne, Baker's Dozen, Baker's Game, Beleagured Castle, Big Forty, Bisley, Block Ten, Broken Intervals, Busy Aces, Calculation, Canfield, Canister, Carpet, Chessboard, Chinaman, Classic Klondike, Congress, Corners, Courtyard, Czarina, Double Canfield, Double Jump, Double Klondike, Doublets, Drivel, EastHaven, Eight Off, Fan, Fascination, Firing Squad, Five Piles (Baroness, Fortress, Forty Thieves, Four Aces, Four Seasons, Fourteen Out, FreeCell, Gaps, Golf, Grandfather's Clock, Idiot's Delight, King Albert, Klondike, Klondike on 1's, La Bella Lucie, Le Cadran, Maria Luisa, Monte Carlo, Mt. Olympus, Osmosis, Pants, Parliament, Peek, Pyramid, Russian Solitaire, Scorpion, Scotch Patience, Seahaven Towers, Simple Pairs, Simple Simon, Simplicity, Sir Tommy, Spanish Patience, Spider, Spiderette, Streets and Alleys, Thirteen), Thumb and Pouch, Treasure Trove, Trefoil, Triangle, Whitehead, Will o the Wisp, and Yukon.