AS-Solitaire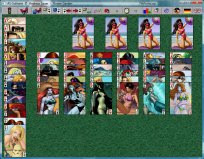 AS-Solitaire is a freeware cardgame collection with 40 games that makes use of more than 1000 different photo cardsets. WYSIWYG editor to make own cardsets is available.
AS-Solitaire is Reko/Rkp compatible, with highscore statistics, drag-and-drop moving of cards, and customize-able backgrounds.
Requires Windows and DirectX 7.0 or later.
By Andreas Sauer
Operating System: Windows

Additional Information
AS-Solitaire includes the following solitaire card games: Accordion, Agnes, Baker's Game, Beleagured Castle, Blind Alleys, Calculation, Canfield, Clock, Cruel, EastHaven, Elisabeth, Fan, Fifteen Puzzle, Findit, Flower Garden, Forty Thieves Freecell, Four Seasons, Fourteen Out, Golf, King Albert, Klondike, Memo, Miss Milligan, Montana, Napoleon, Nestor, Poker Squares, Pyramid, Pyramid Golf, Russian Solitaire, Scorpion, Sea Towers, Shamrocks, Sir Tommy, Spider Solitaire, Strategy, Towers of Hanoi, Whitehead, and Yukon.