Vista Card Decks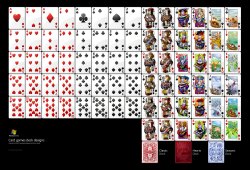 The new Windows Vista operating system will include three familiar solitaire games – Klondike, Freecell, and Spider (see Vista Solitaire) – but the biggest news is not the games themselves, but the appearance of the games. In a post at istartedsomething, Long Zheng provides a few details about the new card decks we should see in Vista.
Long reports that Vista comes with four unique deck designs:
Classic Deck
Hearts Deck
Seasons Deck
Large Print Deck
The image on the right shows the first three decks, which share common A-10 images, and unique face cards for each deck (click the thumbnail to see a full-sized image).
Long also reveals that the card decks, along with all of the casual games included with Vista, including the solitaire games, were developed by Oberon Media, creators of Dream Vacation Solitaire and Tri-Peaks Solitaire To Go, as well as numerous other casual games.
Read Long Zheng's complete article.