Dream Vacation Solitaire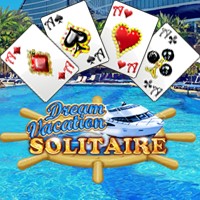 Take your dream vacation, sailing from one beautiful location to the next as you play solitaire for points and prizes on your dream vacation! Interactive tutorials give you a refresher course on old favorites like Klondike and FreeCell as well as more than 30 other solitaire favorites! Dream Vacation Solitaire features more than 30 games including: Sea Towers, Grandfather, Old Clock, Scorpion, Big Forty, Easthaven, and Blind Alleys. Making matches and combinations gives you access to power moves that let you clear the boards more easily. And if you do well enough, you'll earn medals, trophies, and even new yachts to sail to the next vacation paradise!
35 levels in 5 environments
Bonus power-ups and combos
Earn medals, trophies, and new yachts
Soothing music and animated backgrounds
Interactive instructions
Requires: Windows 2000/XP/VISTA, 128MB RAM
By Oberon Media
Operating System: Windows

Dream Vacation Solitaire Screenshots
Dream Vacation Solitaire Reviews
Gamezebo - Because of the sheer number of solitaire types, Dream Vacation Solitaire scores high in its replayability.