Solitairex 3D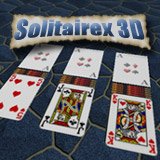 Solitairex 3D is a solitaire game that has 33 different solitaire variants. It is a collection of card games for one player commonly known as "Patience" games. Player has to reorder shuffled card deck according to each game rules. Some games are difficult to master and some games have simple, but yet very addictive rules. The main goal is to master each game to get the best results witch you can track in the game statistics.
Solitairex 3D is based on OpenGL 3D engine. It allows to view game board from any direction and angle, what makes a player not only to train his brain, but also his eyes. Dynamic lighting, shadows and sounds make the game more realistic. Highly customizable card-sets and playfield backgrounds will suit any taste.
Solitairex 3D features such distinctive functionality as:
Highly addictive solitaire variants (Golf, Klondike, Freecell)
More than 1,300,000,000 different deals for each game
User statistics
Dynamic shadows and card animations
Realistic sounds
Unlimited Undo/Redo
Game saving and loading with preview screenshot
Highly customizable environment of cards, decks and background textures
Intuitive and easy-to-learn interface
By Adirex Entertainment
Operating System: Windows

Solitairex 3D Screenshots
Additional Information
Solitairex 3D includes the following solitaire card games: Achtmal Acht, Baker's Game, Batsford, Big Harp, Blind Alleys, Casino Klondike, Dead King Golf, Double Klondike, Double Klondike by Threes, Eastcliff, Eight Off, Elevator, ForeCell, FreeCell, Gargantua, Golf, King Only Baker's Game, Klondike, Pas Seul, Penguin, Relaxed FreeCell, Relaxed Golf, Relaxed Seaheven Towers, Seaheven Towers, Small Harp, Stalactites, Steps, Thumb and Pouch, TriPeaks, Vegas Klondike, Westcliff, and Whitehead.