Solitaire Suite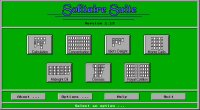 Solitaire Suite is the premier DOS shareware solitaire collection, containing seven of the very best classic card games. The games feature a smooth and elegant graphical user interface, with undo, auto moves, move alert, hints, selectable game colors and card designs, sound, challenge scoring, and full statistics.
The solitaire games included in Solitaire Suite include Calculation, Concentration, Idiot's Delight, Midnight Oil, Monte Carlo, Osmosis, and Royal Cotillion.
By Randy Rasa
Operating System: DOS

Additional Information
Solitaire Suite includes the following solitaire card games: Aces Up, Calculation, Concentration, Double and Quits, Idiot's Delight, La Belle Lucie, Midnight Oil, Monte Carlo, Osmosis, Royal Cotillion, Three Shuffles and a Draw, Treasure Trove, and Weddings.