Solitaire Plus! for PCs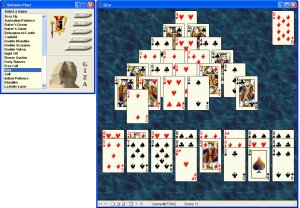 Solitaire Plus!, brought to you by GamesForOne.com, is a collection of solitaire games for the PC. The Klondike, FreeCell, and Pyramid favorites are included, along with multi-level Spider and 26 other challenging solitaire variations. Solitaire Plus also offers a unique smart-dragging feature that makes most moves automatically by simply nudging a card with the mouse. Solitaire Plus is try-before-you-buy shareware and offers a 30 days of actual use, fully-featured trial. Upon purchase, a money back guarantee also ensures your satisfaction.
By GamesForOne
Operating System: Windows

Additional Information
Solitaire Plus! is 100% adware, spyware, and virus free, and comes with an unconditional 30-day money back guarantee.
Solitaire Plus! for PCs includes the following solitaire card games: Aces Up, Australian Patience, Baker's Dozen, Baker's Game, Beleaguered Castle, Canfield, Double Klondike, Double Scorpion, Double Yukon, Eight Off, Flower Garden, Forty Thieves, FreeCell, Gaps, Giza, Golf, Indian Patience, Klondike, La Belle Lucie, Montana, Multi-level Spider, Nestor, Pyramid, Pyramid Golf, Queen of Italy, Russian Solitaire, Scorpion, Scorpion II, Sea Towers, Simple Simon, Terrace, and Yukon.