Classic Solitaire for Windows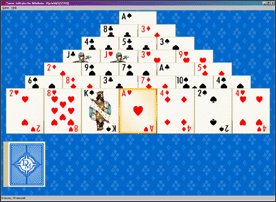 Classic Solitaire is the most fun and easy-to-use pack of classic solitaire games for your PC! All your favorites are here - 30+ of the world's favorite Solitaire games. Whether it's the attractive cards, or just their large size and easy-to-read numbers - this game is relaxing to play because it just looks so good. And there are games to suit your mood - from easy to very challenging. Naturally, statistics are available for each game. We've put a lot of effort into making Classic Solitaire the easiest game to play.
All your favorite solitaire games are here:
Aces Up
Alaska
Bakers Game
Beleaguered Castle
Canfield
Chameleon
Clock
Colorado
Corner Stones
Corona
Cruel
Double Klondike
Duchess
Freecell
Golf
Idiot's Delight
Klondike
La Grande Imperiale
Montana
Napoleon At Elba Island
Osmosis
Penguin
Pyramid
Russian Solitaire
Scarab
Scorpion
Spider
Spiderette
Strategy
Tri Peaks
Wave
Yukon
By Dogmelon
Operating System: Windows

Classic Solitaire for Windows Screenshots
Additional Information
Classic Solitaire for Windows includes the following solitaire card games: Aces Up, Alaska, Baker's Game, Beleaguered Castle, Canfield, Chameleon, Clock, Colorado, Corner Stones, Corona, Cruel, Double Klondike, Duchess, FreeCell, Golf, Idiot's Delight, Klondike, La Grande Imperiale, Montana, Napoleon At Elba Island, Osmosis, Penguin, Pyramid, Russian Solitaire, Scarab, Scorpion, Spider, Spiderette, Strategy, TriPeaks, Wave, and Yukon.
Other Games You May Enjoy