Classic Solitaire For iPhone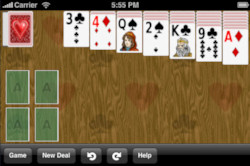 Classic Solitaire For iPhone is a fun and easy-to-use collection of 25 of your favorite solitaire games, with beautiful graphics and a control scheme carefully programmed to work well on the small screen.
Classic Solitaire For iPhone works with iOS 3.2 or later, and is compatible with iPhone, iPod touch, and iPad. It supports the Retina display and offers detailed help, making it easy to learn and master new games. With full undo/redo, great sound effects, automatic saving/loading, and great cardbacks and backgrounds, you'll never be bored again!
All your favorite solitaire games are here:
Aces Up
Alaska
Australian Patience
Bakers Game
Beleaguered Castle
Canfield
Chameleon
Corona
Cruel
Duchess
Forty Thieves
Freecell
Golf
Klondike
Montana
Osmosis
Penguin
Pyramid
Royal Parade
Russian Solitaire
Scorpion
Spider
Spiderette
Tri Peaks
Yukon
By Dogmelon
Operating System: iOS
Additional Information
Classic Solitaire For iPhone includes the following solitaire card games: Aces Up, Alaska, Australian Patience, Baker's Game, Beleaguered Castle, Canfield, Chameleon, Corona, Cruel, Duchess, Forty Thieves, FreeCell, Golf, Klondike, Montana, Osmosis, Penguin, Pyramid, Royal Parade, Russian Solitaire, Scorpion, Spider, Spiderette, TriPeaks, and Yukon.
Other Games You May Enjoy