Spaces and Aces Solitaire Rules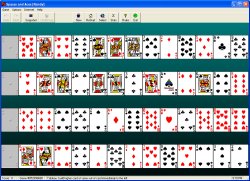 Spaces and Aces is a variation of Gaps with the following differences:
The initial layout includes one empty column at the left of the layout (making fouteen columns in total).

The aces are not removed from the game.

The rows are built up from ace to king.

Spaces to the right of a card may be occupied bay any card of the same suit and higher in rank.

There is no redeal.
Spaces and Aces was invented by Robert Harbin.
Other Sources of Spaces and Aces Solitaire Rules
Note: All rule links open in a new window.
Games Featuring Spaces and Aces Solitaire
| | |
| --- | --- |
| | A collection of 445 solitaire card games, including over 90 original games found nowhere else, along with all the most popular games. And you can modify rules of almost any of the included games, thus creating your own solitaire variations! |
| | A collection of 760 solitaire games, including both original games and classics like Klondike, FreeCell, and Spider. Lush graphics, beautiful easy-to-read cards, in-depth statistics, & much more. |