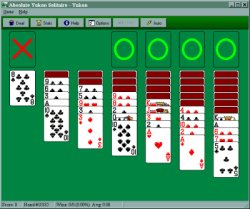 This program is a collection of twelve solitaire card games based on the classic game of "Yukon", which traditionally ranks as one of the favorite solitaires of all time. The games in this program include both familiar favorites and new games invented specifically for this collection, and available nowhere else.
All of the games share the peculiar Yukon rule that groups of cards may be moved from one tableau pile to another without having to be in sequence. Unlike games such as Klondike (i.e. "regular solitaire"), in which groups of cards may only be moved when they are in the proper order, Yukon-type games provide for much more freedom of movement. This often translates into games requiring more skill than luck. The end result is much more challenging and addictive solitaires!
Beyond sharing this common card-movement rule, the games are otherwise very different from one another, featuring different initial layouts, different foundation and tableau building rules, and different strategies.
Games include: Abacus, Alaska, Chinese Discipline, Chinese Solitaire, Chinese Torture, Queenie, Rushdike, Russian Point, Russian Solitaire, Scorpion, Wasp, and Yukon.
Besides the unique and innovative games themselves, this program offers all of the comforts and conveniences you've come to expect from a state-of-the-art solitaire collection: undo, hints, statistics, wallpaper, sound effects, extensive online help, and much more.
Click Here For More Information >>>
Features
Each game features unique rules, card movement, and strategy
Statistics for each game, including games played, games won, winning percentage, and average score
The ability to submit your scores to the Absolute Yukon web site, where you have a chance
to compare your skills with the best in the world on the worldwide high-score table
A toolbar puts the most common features at your fingertips
A status bar shows your score, statistics, and hints for playing each game
Fully-configurable screen background, with a user-selectable color, wallpaper, bitmap, or gradient
Hands can be selected at random, or by number
Multimedia sound effects
Comprehensive context-sensitive help system
Virtually unlimited number of undo levels (limited to one undo in the free version)
Two card sizes, allowing the game to adapt to nearly any screen size, along with a
fully-resizable game windows, with card layouts that compress and expand to handle
any window size
Support for 256-color, and 16-bit (High Color) graphics
Publisher Information
Absolute Yukon Solitaire is published by Goodsol Development, home of the world's most popular shareware solitaire games, including Pretty Good Solitaire, Solitaire Plus, FreeCell Plus, FreeCell Wizard, 21 Solitaire, Poker Solitaire, and many more.
Requirements
Requires Windows 95, 98, NT, XP, or Vista. 640x480x256 graphics is required; higher resolutions and colors are highly recommended. A sound card is optional but recommended.
Note: This game was designed for Windows 95. This program may or may not run under the version of Windows on your computer.