Solitaire Setty v2.00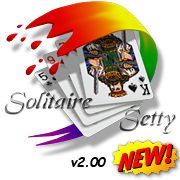 Digital Smoke has released an update for Solitaire Setty, the free utility that allows you to create your own cardsets for use in Solitaire City for Windows and Solitaire City for Pocket PC.
Solitaire Setty is a powerful cardset design tool that lets you turn your JPEG collection into a photorealistic cardset for use in Solitaire City. You can create Windows cardsets in Small, Medium, Large, Jumbo and King Size, and Pocket PC cardsets in Tiny and Tinier for QVGA displays and Mini and Minier for VGA displays. Once created, you can upload new cardsets to your Pocket PC device directly from Solitaire Setty.
The program comes with a number of different symbol and overlay designs, or you can download Solitaire Setty project files from the Solitaire City website and convert them into cardsets for use with Solitaire City.
Learn more about Solitaire Setty