Solitaire Plus! for PCs v2.4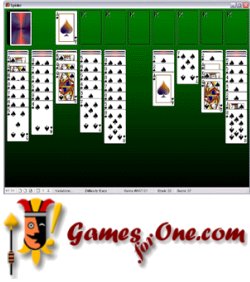 Solitaire Plus! for PCs from GamesForOne.com has been updated to version 2.4 to make it fully compatible with Microsoft Vista. It also includes support for "Limited User" accounts on XP, and tracking of individual statistics for each user login on Windows 2000, XP, or Vista. The new version also includes internal checks to help prevent unauthorized modifications of the game for enhanced security.
Solitaire Plus! (also available as Solitaire Plus! for MacOS X for Macintosh computers) is a collection of 30 of the most popular solitaire games, including Klondike, FreeCell, and Spider. Solitaire Plus! is one of the easiest-to-use solitaire collections, featuring a unique smart-dragging function that makes most moves automatically by simply nudging a card with the mouse.
Version 2.4 is a free upgrade to all registered Solitaire Plus! users, or $19.95 for new customers with immediate download delivery. As always, a fully-featured "30 days of use" trial is offered to new customers. The trial only counts days where the game is actually played toward the trial period. GamesForOne.com also offers a 30-day money back guarantee on all purchases.
Learn more about Solitaire Plus! for PCs
Download Solitaire Plus! for PCs (4MB)
Purchase Solitaire Plus! for PCs ($19.95)