Solitaire City for Pocket PC v3.00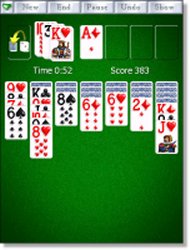 Digital Smoke has released an update for Solitaire City for Pocket PC, a solitaire collection for Windows Mobile based Pocket PC handhelds.
Solitaire City offers all your favorite solitaire card games, but with a twist! The faster you can complete a game, the higher your score. This unique scoring system is what makes Solitaire City more addictive than any other solitaire game you've played. You'll find yourself playing long into the early hours of the morning, trying to shave a few seconds off your best time. Place your handheld in its cradle and it will use your computer's Internet connection to sync your hi-scores automatically with scores worldwide. If your Pocket PC is WiFi capable then your scores can sync from your armchair!
Version 3.00 adds Eliminator, Yukon and Tri-Peaks games to bring the total number of game variations to over 50. The new version also adds support for high-resolution VGA displays, and new sparkling particle effects reward you for good moves.
Solitaire City for Pocket PC supports all available Pocket PC all CPU's (MIPS, SH3 and ARM), and displays ranging from Windows Mobile 5 square screens to high-resolution VGA displays, where you can switch between portrait and landscape modes for the best possible display quality.
Solitaire City also offers impressive visual effects including photographic backgrounds, rotating cards and shadows, as well as digitized sound effects, a unique hands-on training system, unlimited undos, move recommendations (hints), and much more. This isn't your average Solitaire game!
Learn more about Solitaire City for Pocket PC
Purchase Solitaire City for Pocket PC ($18.95)