Pyramid Deluxe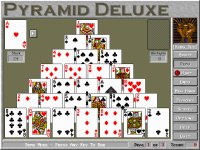 A SuperVGA version of the well-loved solitaire card game known as "Pyramid", this game is easy to learn, but difficult to win, and offers plenty of room for skillful play.
It features 640x480x256 graphics, hint mode, undo, demo mode, and full scoring statistics for up to ten players.
By Randy Rasa
Operating System: DOS

Additional Information
Pyramid Deluxe includes the following solitaire card games: Pyramid.