Poker Solitaire Pack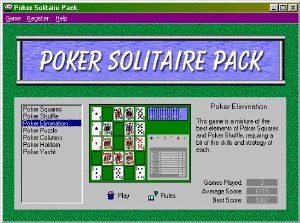 Poker Solitaire Pack is a collection of 7 solitaire card games based on a Poker theme. The object of the games is to make Poker hands in various ways. It includes the classic solitaire game Poker Squares, as well as original games.
In addition to the variety of unique games included in the collection, Poker Solitaire Pack also offers all of the comforts and conveniences you've come to expect from a state-of-the-art solitaire collection, including:
Three scoring systems: The traditional "American" and "English" systems, and the new and unique "Wild" system, where the value of each hand is based not only on the type of poker hands, but on the value of the cards in the hand. This maximizes the strategic importance of each card, and makes for very dynamic scoring.
Statistics for each game, including number of games played, average score, and best score
Fully-configurable screen background, with a user-selectable color or wallpaper image
256-color graphics
Hands can be selected at random, or by number
Individually-programmable sound effects
Comprehensive context-sensitive help system
Virtually unlimited number of undo levels (limited to one undo in the shareware version)
Two card sizes, allowing the game to adapt to nearly any screen size
Fully-resizable game windows, with card layouts that compress and expand to handle any window size
Each game sports a toolbar with pop-up hints, as well as a right-click context menu
By Goodsol Development
Operating System: Windows

Additional Information
Poker Solitaire Pack includes the following solitaire card games: Poker Columns, Poker Elimination, Poker Holdem, Poker Puzzle, Poker Shuffle, Poker Squares, and Poker Yacht.