Bicycle Solitaire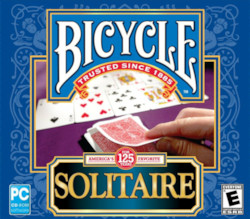 Bicycle introduces an all-new 125th Anniversary Edition of Solitaire - one of the most popular card games around. Perfect for enthusiasts and novices alike, Bicycle Solitaire features a whopping 52 of your favorite Solitaire games for hours of fun and excitement. With helpful in-game help and hint information and unlockable bonus games, Bicycle Solitaire is both informative and entertaining. Choose from a variety of customizable backgrounds and card backs for personalization.
Features include:
In-Game Help and Hint System allows players to learn new Solitaire variations and playing rules
Unlockable, Bicycle felt backgrounds and Bicycle card backs featuring classic and vintage Bicycle playing card designs and artwork
Save Gameplay to return and finish games later
Track and Save high scores for each of the Bicycle Solitaire game types included
Jam packed with 52 different Bicycle Solitaire games plus unlockable bonus games!
Solitaire games include Pyramid, Best 21, Klondike, Golf, Spider, Forty Thieves, Pick 2, Three Towers, and many more!
Bicycle Solitaire runs on Windows XP or later.
Purchase Bicycle Solitaire
CD-ROM Edition
Purchase Bicycle Solitaire

Download Edition
By Encore Software
Operating System: Windows

Bicycle Solitaire Screenshots
Additional Information
Bicycle Solitaire includes the following solitaire card games: 3 Towers, Achtmal Acht, Advanced Clamp, Avalanche, Batsford, Battery, Battle Lines, Best 21, Big Harp, Black Mamba, Blind Alleys, Breech, Car Wash, Circus Tent, Clamp, Crossbow, Dead King Golf, Deuces, Diplomat, Divide and Conquer, Double Deal Pyramid, Double Klondike, Double Klondike 2, DragonFly, EastHaven, Elevator, Falcon, Forty Thieves, Gargantua, Golf, Grip Tower, Hula Hooper, Klondike, Lady Luck, Lobster, No Deal Pyramid, Number Ten, Pas Seul, Rabbit in the Hole, Red and Black, Relaxed Golf, School of Turtles, Scooter's Game, Single Deal Pyramid, Single Deal Pyramid 2, Spider, Spiderette, Super 3 Towers, Super Spiderette, The Mill, The Mirror, The Square, Truffle, Two Rings, Umbrella, and Wrestler.