Action Solitaire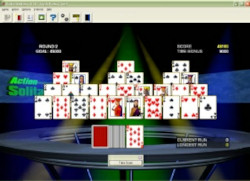 Play solitaire as an arcade game with Action Solitaire. Unlike regular solitaire, Action Solitaire is played for points against the clock in timed rounds. Action Solitaire has 70 different games. Play fast action games such as Triple Peaks, Triple Towers, BlackJack Speed, and Picking Pairs. Play solitaire classics like FreeCell, Klondike, Spider, Pyramid, Golf, Aces Up, Gaps, Montana, and Yukon, all like you have never seen them before.
Your objective is to get the highest score possible and advance to the next round. Each round has a goal score that you must achieve. If you make the goal score, you will advance to the next round. If you do not make the score, you lose. See how many rounds you can play and how high a score you can get!
It's solitaire for people who like action. Play Action Solitaire once, and you'll be addicted forever.
By Goodsol Development
Operating System: Windows

Action Solitaire Screenshots
Additional Information
Action Solitaire is 100% adware, spyware, and virus free, and comes with an unconditional 30-day money back guarantee.
Action Solitaire includes the following solitaire card games: Aces Up, BlackJack Best, BlackJack Speed, Cheops, Double Pyramid, Eight Off, Fifteen Rush, Five Piles, Fourteen Out, Fourteen Up, FreeCell, Get 11, Golf, Hidden Pyramid, Hidden Sums, King Tut, Nestor, Patient Pairs, Penguin, Picking Pairs, Putt Putt, Pyramid, Sea Towers, Triple Peaks, Triple Towers, and Vertical.