Fourteen Up Solitaire Rules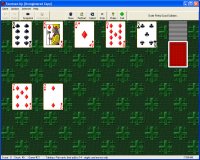 This is an original game, also known as "14's", and is a variation of Five Piles. Your chances of winning are fairly good, though success is by no means assured.
It is a member of the "Simple Addition" family of solitaire games, in which the object is to remove cards that add up to a certain number, in this case, 14.
Setup
The initial layout is five cards at the top of the screen (which expand into columns as more cards are dealt) and two at the bottom. The top card of each column, and the two cards at the bottom, are available for play. Remove pairs totaling fourteen, with Jacks counting as 11, Queens as 12, and Kings as 13. When all possible moves have been made, click on the deck to deal another five cards. If a space is created, the top of any other pile may be moved into the opening. The two cards at the bottom may only be used once.
These are the valid moves:

The game is won if you discard all the cards.
Strategy
The main element of strategy in this game revolves around the use of the two "spare" cards at the bottom of the layout. It is not always easy to decide when to play these cards. Since they can only be played once, it is probably best to hold off using them for as long as possible. On the other hand, don't be afraid to play them early in a hand if a profitable situation presents itself. Personally, my policy is to not play a spare unless I can gain something in the process (i.e. freeing up a buried card or creating a space).
Speaking of spaces, they are absolutely critical to success in this game -- create them as early and as often as possible.
Odds
Your chances of winning are about one out of every two to three games. Here are my current statistics:
Games Played: 81
Games Won: 33 (40.74%)
Average Score: 34.22
The rules to this game are copyright Randy Rasa, and neither the rules nor the game they describe may be reproduced without written permission.
Other Sources of Fourteen Up Solitaire Rules
Note: All rule links open in a new window.
Games Featuring Fourteen Up Solitaire
| | |
| --- | --- |
| | A collection of 760 solitaire games, including both original games and classics like Klondike, FreeCell, and Spider. Lush graphics, beautiful easy-to-read cards, in-depth statistics, & much more. |