AcidFreecell for PalmOS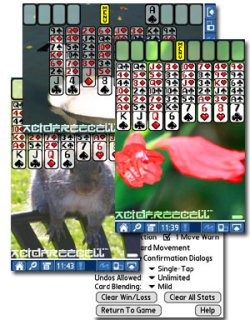 AcidFreecell is the card game of choice for advanced solitaire enthusiasts, with brilliant full-color backgrounds, quick and easy game play, and options including left handed play, auto-move, single and double-tap move and animated card movement.
Leaping off the screen as you quickly tap each card, the cards effortlessly fly across your Palm as you try to win another game. As cards are moved to the home cells, you uncover your background image. You can select a built in image or create your own background images.
AcidFreecell is compatible and fully tested with all Palm OS devices and all Palm OS versions, and takes full advantage of the processing power and full color, high resolution screen (portrait and landscape) on OS 5 devices. And pleasant sampled audio sound effects make playing even more relaxing.
Translucent Cards - Set Blending Level (Mild, Medium, Much And None)(OS5+)
Single-Tap, Double-Tap, Or Drag-Only Mode
Unlimited Undo, Or Select Your Undo Level (Including None)
Auto-Move
End-Of-Game And One-Move-Left Detection With On/Off Options
Use Built-In Backgrounds Or Make Your Own.
Take A Picture Of Anything With Built-In Camera And Use It As A Background Instantly
Set Backgrounds To Automatically Cycle When You Win A Game (OS5+)
By Red Mercury
Operating System: Palm

Additional Information
AcidFreecell for PalmOS includes the following solitaire card games: FreeCell.
Other Games You May Enjoy