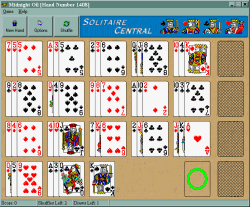 Midnight Oil is a free solitaire card game for Windows. It's proper name is "La Belle Lucie", and is also sometimes known as "Three Shuffles and a Draw". It is one of the very best solitaires, offering ample opportunity for skillful play.
I wrote my first version of this game way back in 1989, and it has always been one of my most popular games. It was originally a standalone program, then became part of my Solitaire Suite collection. Now it stands on its own once more.
This program offers a fully-configurable background (color, gradient, wallpaper, or bitmap), multimedia sound, large easy-to-read cards, and comprehensive help. It supports two versions of the game – the standard version, in which all cards are dealt to the fans and the foundations start out empty, and a slightly easier version, in which the aces are already moved to the foundations.
In appreciation for all who've supported my shareware in the past, I am releasing this game as freeware.
Download
The following file contains the Midnight Oil installation program. Simply click on the link to download it to your computer, then run it to begin installation of the game.
Rules
The game includes complete instructions, but for online rules, please refer to the La Belle Lucie Solitaire Rules page.
License
Midnight Oil is 100% freeware. No payment required. Enjoy.
Requirements
Requires Windows 95, 98, or NT. 800x600x256 graphics is required; higher resolutions and colors are highly recommended. A sound card is optional but recommended.
Note: This game was designed for Windows 95. This program may or may not run under the version of Windows on your computer.