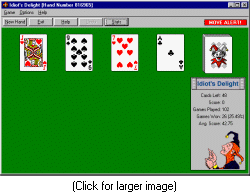 This is a new version of a classic solitaire. It is known by many names, including "Aces Up", "Aces High", "Four Aces", "Firing Squad", "Drivel", and of course, "Idiot's Delight".
In its native form, Idiot's Delight is a very difficult, some would say maddening, game. Your chances of winning are not too high, maybe 1 in 20 on the average. But this version of the game introduces a number of alternate rules that improve the odds considerably. With skill, strategy, and a smattering of luck, you'll probably win half your hands.
In addition to the cheats (er, alternate rules), this program boasts a number of features that make for a great little game of solitaire:
Selectable difficulty levels (easiest, easy, hard, and hardest)
Ten levels of undo, so if you make a little goof, you've a chance to turn back the clock and make amends
Hands can be selected at random, or by number (999999 different deals are possible)
If you're interrupted while playing a hand, you can save it to disk, and restore it later, picking up where you left off
Full statistics, including games played, games won, winning percentage, and average score
You may select from six available card back designs
The color of the game screen background is adjustable
"Move Alert" lets you know if there are any more plays to be made
A toolbar puts the most-used functions in easy reach
Multimedia sound, including WAV sound effects and MIDI music
A context-sensitive help system
Great graphics
The current version is v1.10, released 02/13/1998.
Download
The following file contains the Idiot's Delight installation program. Simply click on the link to download it to your computer, then run it to begin installation of the game.
License
Idiot's Delight Solitaire was originally released as shareware, meaning that you could try it for free, and purchase it if you enjoyed the game. Now, I wish to make the game completely free, with no payment required.
However, I no longer have the development tools necessary to rebuild the application and remove the registration reminder notification. So, when you run the game for the first time, it will tell you that it's shareware, and will ask for a registration code.
Therefore, I am providing the registration code for free. Just enter "

" when the program asks.
This free game is provided as-is, with no additional support available. Enjoy!
Rules
For complete rules to the game, as well as suggested strategy, and odds for winning, visit the Idiot's Delight Rules page.
Requirements
Idiot's Delight requires Windows 3.1 or later, and VGA (640x480) or better graphics. A sound card is optional but recommended.
Note: This game was designed for Windows 3.1. This program may or may not run under the version of Windows on your computer.
Idiot's Delight FAQ
What is the "Hand Number" displayed on the title bar?

Idiot's Delight allows you to choose from a large number of different hands, where each hand is shuffled slightly differently. You can play a particular hand by selecting "Select Hand ..." from the "Game" menu. You might want to do this if you find a particular hand especially challenging, and want to have a friend try to beat it. Just give your friend the hand number, and they can give it a go.

How can I add my own sounds in place of the default sounds?

First off, you'll need sounds in WAV format (the standard Windows sound effects format), which you can acquire from many sources, including CD-ROMs, the Internet (The Daily WAV is a good place to start), or you can record them yourself with a microphone. Once you have the WAV files you want to use, copy them into the directory with the rest of the Idiot's Delight files (by default, this is C:\IDIOT). Then, select "Sound ..." from the "Options" menu, and click on the drop-down list boxes on the right side of the dialog, and select the filename corresponding to the sound you want to play.

How can I change the background music?

The background music is in MIDI format (file extension = ".MID"). You can find MIDI files on the web (Standard MIDI Files on the Net) or on the newsgroup alt.binaries.sounds.midi. Copy the file(s) into the Idiot's Delight directory, select "Sound ..." from the "Options" menu, and click on the drop-down list box next to "Background Music" and pick a new file.

What language was Idiot's Delight written in?

It was originally written for Microsoft Visual Basic Professional, version 2.0; it currently uses VB3. David Baldwin's RTFGEN was used to create the help file. A customized version of Stephen Murphy's QCARD.DLL is used for the card graphics.