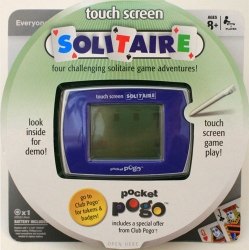 <!–club pogo–>Touch Screen Solitaire is four challenging solitaire games in one:
Tri Peaks - Create card sequences for points while searching for the treasure chest!
Las Vegas 3-Card - Draw 3 cards at a time for 3 rounds. Earn points for each card you play.
Tri Peaks Wild - Classic Tri Peaks play with wild card you can play anywhere!
Klondike 1-Card - Draw 1 card at a time. Rounds are unlimited, but cost 100 points each!
Touch Screen Solitaire measures about 4" x 3" with a 2 1/4" x 1 3/4" screen and comes with two styluses. Rules are included.
Requires 1 x CR2032 battery (included).
This product is available from Amazon.com for $29.95*.