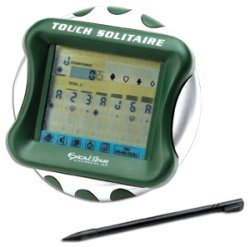 Now you can enjoy Solitaire anywhere, anytime with this Touch Screen Solitaire, a handheld, compact electronic game.
A large touch screen display and lightweight stylus let you play the game with ease, and a round ergonomic design makes it easy to hold for hours of fun. Small enough to fit in your pocket or pack. Features 1 or 3 card deal; sound mute; and optional timer.
Requires 2 "AAA" batteries (not included).
Sorry, but this product is no longer available. You might try searching at Amazon
or eBay
.