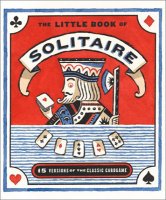 There's more than one way to play solitaire, the classic card game with millions of secret devotees. In fact, the amusing variations include Fortune's Favor, King Albert, and Golf, all illustrated with step-by-step instructions in this ingenious little guide. More than fifteen versions of the classic card game.
A mini deck of 52 real, usable playing cards is attached to the ribbon bookmark.
This product is available from Amazon.com for $1.99* (was $4.95, save $2.96!).