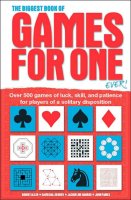 A pack of playing cards usually suggests friends gathered around a card table. But what can you do when you have a deck of cards, a wish to play, and nobody to play with? Author Robert Allen has the answer in this unusual book that presents rules and variations for 100 different fascinating and challenging solitaire card games - but there's still more! You'll also find approximately 400 coin games, matchstick puzzles, logic puzzles, crosswords, and memory games.
The solitaire games include Roll-Call, Pyramid, Canfield, Grandfather Clock, and Flower Garden, to name just a few. Some games - both solitaire and non-card games - take only a few minutes to play, while others can go on for much longer. Each game is described with detailed diagrams, easy-to-follow rules, and the game's object clearly defined. Here's a book to help readers make an hour or two of solitude pass rapidly and entertainingly.
With The Biggest Book of Games for One Ever!, even solitary confinement could be a breeze!
Sorry, but this product is no longer available. You might try searching at Amazon
or eBay
.