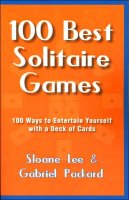 Sloane Lee introduces exciting variations and spin-offs of America's most popular card game in 100 Best Solitaire Games.
Clear and concise examples, diagrams, and illustrations demonstrate different ways to play solitaire in this accessible, extensive guide. Sloane Lee even provides players with strategies for this favorite solo game, sharing tips that will eliminate hours of frustration for avid solitaire enthusiast.
From straight ahead solitaire to two player games, Lee's 100 Best Solitaire Games opens up the world of solitaire to make it one hundred times more entertaining.
This product is available from Amazon.com for $3.47* (was $9.95, save $6.48!).