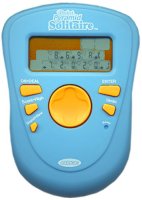 The Pyramid takes classic Solitaire to a whole new level! With this game, you must match available cards to add up to 13, such as 9 and 4 or Queen and Ace!
Pocket Pyramid Solitaire measures 4.25" high by 3.25" wide.
Sorry, but this product is no longer available. You might try searching at Amazon
or eBay
.