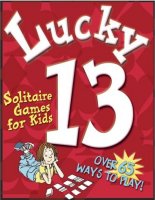 Offering over 65 ways to play, Lucky 13: Solitaire Games for Kids provides step-by-step directions, strategies, variations and diagrams showing cards in play for each game. Basic and advanced two-pack games are also included. Clear, informative illustrations will have just about anyone playing like a pro in no time. Each game is laid out with step-by-step, fully illustrated instructions. Historical comments on the origins of some of the games are included along with strategies to improve one's playing.
There's something for everyone in this excellent compendium, from classics like Klondike and Canfield, to fast-paced Hit or Miss and mind-bending Intrigue, to games like Double Your Fun that boost memory and counting skills. Whether basic, advanced, or two-pack games, the clear step-by-step directions and strategies combined with black-and-red card diagrams make them a snap to learn–and once you start, you're hooked! With over sixty-five games and variations (and one hundred funny pictures), here's an essential handbook for veteran cardsharks or beginning enthusiasts of all ages.
Sorry, but this product is no longer available. You might try searching at Amazon
or eBay
.