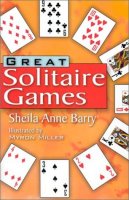 By yourself? Then it's time for the fun to begin! All you need are cards and a little space and you're ready to enjoy some of the most intriguing games ever devised. Every one of these more than 100 variations on solitaire has something unique, intriguing, and challenging that makes it special to play. That's why they're the world's best.
There are simple counting games perfect for those moments when you just want to relax, complex alternatives that call on all your concentration, irresistible ones that look absolutely super, and some so mesmerizing that once you start you won't be able to stop. Try your hand at Grandfather's Clock, Osmosis, Intelligence, Forty Thieves, or the other amusing ways to while away the time. Instant-play illustrations for all 100 make it simple to see exactly how each game works!
This product is available from Amazon.com for $2.97* (was $6.95, save $3.98!).
Note: Great Solitaire Games is out of print (may or may not be available). It has been replaced by Great Card Games for One.