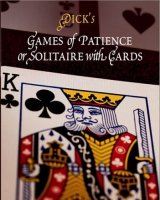 "Games of Patience or Solitaire with Cards", originally published in 1884, was the first book to popularize solitaire in America. Many of the games featured in this book will not be familiar to most card enthusiasts and the creativity and challenges they require will immediately hook the solitaire devotee.
Here readers can recreate intriguing and highly satisfying games from the past, whose names alone provide a colorful glimpse into history: "Napoleon's Favorite," "The Sultan of Turkey," "The Zodiac," "The Besieged City," "St. Louis," "The Congress," and "Light and Shade." With each game fully illustrated and explained, this charming book is sure to delight all those who find solitaire to be a favorite diversion and to gain new converts to a pastime which requires no expensive equipment, no special space, no opponents, but significant brainpower.
Long considered one of the foundation books of solitaire, this is the first time Games of Patience or Solitaire with Cards is available as a trade paperback.
This product is available from Amazon.com for $13.95* (was $14.95, save $1.00!).