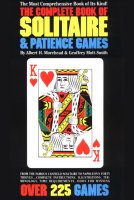 With rules to over 225 games, as well as a history of solitaire, an explanation of solitaire terms, and classification of games by skill level, this is the most comprehensive book of its kind.
In addition to including all of the best and most frequently enjoyed games of solitaire, like Canfield, Klondike, and patience, the authors have added a generous selection of brand-new games to the battle of wits against chance. Try your skill at Boomerang, Bristol, Sudden Death.
This is the new updated edition of the classic book for the novice player and seriously addicted alike. An excellent solitaire reference.
This product is available from Amazon.com for $7.99*.