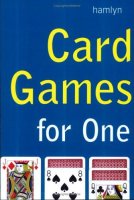 More than 70 of the world's most famous and fascinating games of patience and solitaire will keep solo card players engrossed and happy for hours on end. From simple to challenging, this super collection covers all levels, from easy Pairs Patience to the more complex Victoria Reel.
The instructions explain all the rules, tactics, and terminology, while the color card layouts illustrate the different hands in an easy-to-understand way.
Take out a single pack and try your luck on Accordion, Beleaguered Castle, Easy Go, Eight Off, Quadrille, Monte Carlo and dozens of others, including Flower Garden, which doesn't depend entirely on the fortuitous order of the cards. Or double your fun with two-packers, like Alhambra, Big Bertha, Heads and Tails, and Kings' Way. There are so many possibilities, you'll be able to keep on playing for days without repeating a game!
This product is available from Amazon.com for $5.30* (was $7.95, save $2.65!).