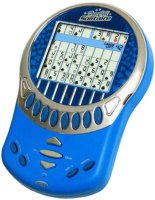 Put your Solitaire-playing skills to the test. This on-the-go version of Freecell Solitaire lets you play your favorite card game on a large LCD screen with game sound effects. There's even an auto-light for night-time play.
The Freecell Solitaire Electronic Handheld puts a new twist on the classic game of Solitaire! Now the extremely popular PC and Internet game is available in handheld form, with the added feature of a smart photocell that automatically illuminates the screen in low light conditions. Scan the bottom row of cards, plot your strategy, and build four suit stacks in ascending order from Ace to King within the Home Cells to win!
This game measures 6" by 4" with a large 2 1/2" by 2" screen.
Fresh new twist to the classic game of Freecell Solitaire
Chance of winning is increased since all cards are revealed
Simplified scrolling improves strategic card placement
New feature - smart photo cell will automatically turn on in low-light conditions
Win% and Replay options
Auto light for night or indoor play
Requires 2 "AAA" batteries (not included).
Sorry, but this product is no longer available. You might try searching at Amazon
or eBay
.